Do you remember how was your life in the '90s before the mobile era? Everything was done without mobile, smartphone or apps. But, Can you imagine your life nowadays without your smartphone and its apps? Most of you probably will answer not. Today we introduce you to an innovative App for smartphones and tablets: Football 3.0.
Football 3.0 Daily Soccer Training App By Pratheek Burkhard.
Football 3.0 App Introduction.
Digitalization has transformed our lives on the past years, however, the dream to become a professional football player hasn't changed in the past years. This article will cover an introduction from the technology point of view. Let's start with an official trailer introduction of Football 3.0.
Who is the target customer for FOOTBALL 3.0?
Most of the kids and teenagers are dreaming to become a professional Football player. Thus our target is these young people sharing the same dream.
If you don't believe you are the best, then you will never achieve all that you are capable of. – CRISTIANO RONALDO.
All of them believe in themselves and they would like to have the chance to achieve this. For sure, is not an easy path, but they feel super motivated and they enjoy playing football.
What are the main problems solved by FOOTBALL 3.0?
Now, that we know who is the target consumer for this app, and their common motivation. What is the main obstacle of these kids to achieve their dreams? The main obstacle for 99% of these kids and teenagers is to have access to a professional trainer and professional personal plan. Of course, there is this small percent who have access for a dedicated coach, but what about the other 99%?
The good news is that most of the kids and teenagers have access to a smartphone or tablet. Therefore, we can take advantage of this accessible technology in order to help these young people to achieve their dreams. Football 3.0 App fill this huge gap in the market.
How does FOOTBALL 3.0 solve these problems?
The Co-founder at Football 3.0, Pratheek Burkhard, get inspired by the constancy of Cristiano Ronaldo.
Talent without working hard is nothing. CRISTIANO RONALDO
Let's go directly to the main factors needed to become a professional football player:
Experience from other Champions League football players and successful coaches such as Juergen Klopp.
Personal plan for physical training.
Personal plan for your mind.
Keep healthy on the food and drink side.
Work the tactics.
Keep your motivation up for the long term path.
Football 3.0 brings you a personal coach, with a personal dedicated plan for you.
What is the main technology innovation offered by FOOTBALL 3.0?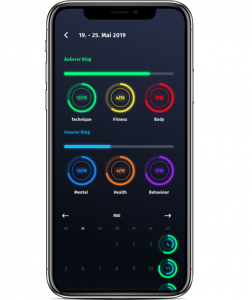 We have described the context, the problem and how to solve all this app with this unique App. Here is the main technology advantage from Football 3.0.
It is built on 15-minute training sessions six times a week.
It is tracking your Technique. You can set up the targets and tracking this target every day.
It is tracking your fitness. Thus, you can make sure how you are doing every day.
The same methodology is applied for Mental, Health, and Behavior. It brings you personal awards and trophies for achievements in the short and middle term.
Are you interested to try the app? You will find all this information on the next points and how to get in contact with Football 3.0 and its founder Pratheek Burkhard on Linkedin and in Instagram.
Are you interested to know the founder story of Football 3.0? You can find on the following link: Football 3.0: App Startup For Soccer Players Launched By Pratheek Burkhard in Startups Tips: Tech Startups Magazine.
How can you download Football 3.0 App?
The most innovative training method in football is now available via App. The app is available in App Store and Google Play.
How to get in contact with Football 3.0?
You will find all the information via our website: https://football3.io/
You can also communicate with us by our web form: https://football3.io/#contact
Football 3.0 Social Media:
If you are interested in more Tech Startups, you can find in our High-Tech Online Magazine or in our High-Tech Company Directory. Would you like also to include an article about you on our High-Tech Directory? You can contact us by leaving a comment or write to [email protected]